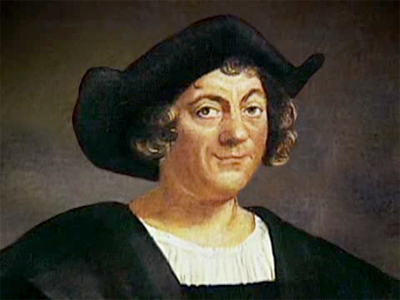 From the
HuffingtonPost article
by Eric Kasum:
"Shockingly, Columbus supervised the selling of native girls into
sexual slavery
. Young girls of the ages 9 to 10 were the most desired by his men. In 1500, Columbus casually wrote about it in his log. He said: "A hundred
castellanoes
are as easily obtained for a woman as for a farm, and it is very general and there are plenty of dealers who go about
looking for girls
; those
from nine to ten are now in demand."
He forced these peaceful natives work in his gold mines until they died of exhaustion. If an "Indian" worker did not deliver his full quota of gold dust by Columbus' deadline, soldiers would
cut off the man's hands
and tie them around his neck to send a message. Slavery was so intolerable for these sweet, gentle island people that at one point, 100 of them committed
mass suicide
. Catholic law forbade the enslavement of Christians, but Columbus solved this problem. He simply refused to baptize the native people of Hispaniola.
On his second trip to the New World, Columbus brought
cannons and attack dogs
. If a native resisted slavery, he would cut off a nose or an ear. If slaves tried to escape, Columbus had them burned alive. Other times, he sent attack dogs to hunt them down, and the
dogs would tear off the arms and legs
of the screaming natives while they were still alive. If the Spaniards ran short of meat to feed the dogs, Arawak babies were
killed for dog food
."