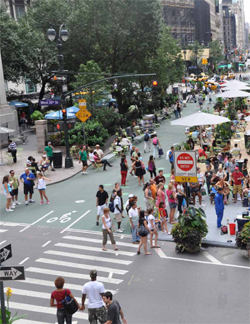 Left turns, male drivers, and darkest mid-winter are the most dangerous for pedestrians in NYC, but our city is getting MUCH safer for those of us who don't choose to tackle the grid in a car. Pedestrian deaths down a shocking 20% since 2001, and a promise from transportation czar (yes) Janette Sadik-Kahn to remove even more parking in favor of bike lanes and broader visibility. A breakdown of serious accidents (and another reason to implement congestion pricing):
79% involved private passenger cars
(huge fucking numbers gap here)
13% taxis or livery cars
4% trucks
3% buses
The last three on the list would not be subject to congestion pricing . . . not forced to pay to drive onto Manhattan, and doesn't it follow logically that we would reduce pedestrian death while raising millions and cleaning the city's air? God, I wish it would happen. Full Report
HERE
.